3rd Annual CCP-SAS Project Workshop May 23-25, 2016 NIST Center for Neutron Research
NOTE:
While there is no fee for attending this Workshop, it is being held on the NIST campus. As such all participants will be required to register with NIST
BEFORE May 13, 2016
in order to gain access!
This Workshop follows on from the previous two workshops at NIST in February 2014 and Diamond in October of 2014 and the interim closed project meeting held at SAS-2015 in Berlin in September 2015. The Workshop will consist of three parts. On Monday will be the presentation sessions of broad interest to the scientific community. Attendees are encouraged to bring posters explaining their use of these kinds of modeling techniques or illustrating their need for such. Tuesday morning will be devoted to a meeting between the CCP-SAS project and individuals or institutions with activities in related software development areas, interests in participating in the CCP-SAS current or projected activities and facilities with potential interest in deploying CCP-SAS products on their servers for use by their users and thus have a potential interest in helping with maintenance activities. Discussions will focus on current activities, directions and needs with a goal of elucidating adjustments to CCP-SAS activities in the remaining funding cycle, and, more importantly of developing collaborations with other projects and identifying areas for joint funding applications moving forward. Finally on Wednesday there will be two hands on tutorial sessions: How to wrap existing code using GenApp to produce a web GUI and run on a cluster backend, and code development in the SASSIE framework.
Housing and Transportation Information
The NIST campus is located in Gaithersburg Maryland 10 miles north of the Wasthington DC beltway. Dulles, Reagan-National and BWI airports all service the greater DC area and with the new inter-county connector almost equidistant from Gaithersburg.
Housing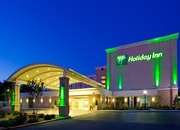 The Holiday Inn is the workshop hotel for the CCP-SAS project members. There is a small number of extra rooms blocked for attendees on a first come first served basis. The holiday Inn is located at:
2 Montgomery Village Ave Gaithersburg, MD 20879
301-948-8900
Hotel block now closed
Group Rate $125/night and includes
Complimentory Wired/Wireless Internet
Complimentory Shuttle to and from NIST
Complimentory Breakfast with CCP-SAS
IHG Members Rewards Points
Complimentory Shuttle Round Trip to Shady Grove Metro & Anywhere Within 5 Mile Radius
Onsite Restaurant & Bar
Business Center
Fitness Center
Alternative nearby hotels include the Hilton and TownePlace Suites on Perry Parkway, and the Homewood suites on Russel Ave.
Traveling to Gaithersburg
View Larger Map
The easiest way to travel to the hotels from any of the three nearby airports is to go to the airport shared ride counters and book a shuttle. Cost should be on the order of $35-$45/person. For larger groups a taxi will probably be more economical.
Driving Directions
To the Holiday Inn

The Holiday Inn web site provides excellent directions form most any point.

To The NIST Center for Neutron Sciences

The NIST CNR website provides information for shuttle or metro access as well as local hotel infomation. When driving, the address is 100 Bureau Drive. From the south take exit 10 off of I270. Turn right off ramp onto E. Diamond Road. Pass under I270, pass the southbound on-ramp to I270 and take next left (at traffic light) onto Bureau Drive. From the North take exit 11 off of I270. Turn right off ramp onto Montgomery Village ave. Pass under railway and through first traffic ligth at Fields Road. Turn left at next traffic light onto E. Diamond Road. Take first right from E. Diamond onto Bureau drive.
stop at the visitor center to pick up a badge and receive directions.